KISS DP-558 Powersupply Modification
This page gives a step by step guide for modification of the KISS DP-558 Power Supply due to leaking/defective PSU capacitors.
The KISS DP-558 power supply has a construction error, that makes it fail, typically after beeing used 24/7 ranging from 1-3 years. The problem is proberly caused by the extensive heat that the unit generates combined low voltage capacitors (10 volt).
Mine failed after 2 years and 8 month beeing used 24/7.
Please observe, that making any modifications the the KISS DP-558 will void the warrenty, so proceed at own risk
KISS DP-558 is a highend harddisk recorder, with internet connection and FTP server and integrated online EPG (electronic Program Guide).
The DP-558 basically consist of a Powersupply unit, a main computer board, one DVD drive, one harddisk and a front unit
The harddisk is supplied by a +12 Volt (yellow) and +5 Volt (red). Ground is wired as black. When this type of error occures, both +12 volt and +5 volt linies drop in voltage. To make sure this fix is nessary for your type of error, check for the following symptoms:
Typical symptoms to look for:
LCD Displays only: "KISS DVD"
LCD Displays only: "BOOT ERR
Harddisk does not spin up when unit is powered on
It is not possible to open DVD drive
No reaction to remote control
Display illumination is lower than usual
Capacitors C19,C20,C15 of PSU may show leakage
+12 volt and +5 volt supply to the KISS DP-558 harddisk is low (e.g 11 and 3 volt)
---
Step 1: Remove mains power line, and wait at least 30 minutes before any repair is started.
---
Step 2: Remove cover of the unit.
---
Step 3: Located the Power Supply Module (PSU). PSU Type must be: Achme AM561B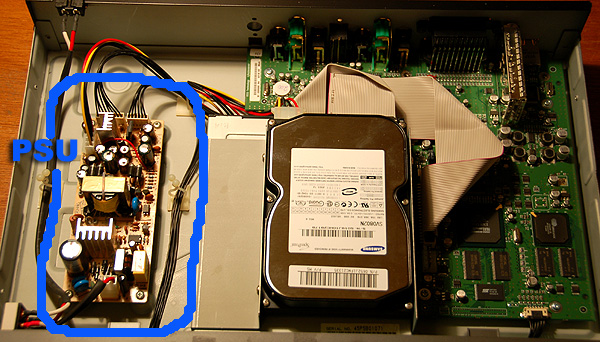 ---
Step 4: Disconnet the 4 power connectors from PSU module
---
Step 5: Remove the 4 screws mounting the PSU to chassie
---
Step 6: Located capacitor C19,C20 and C15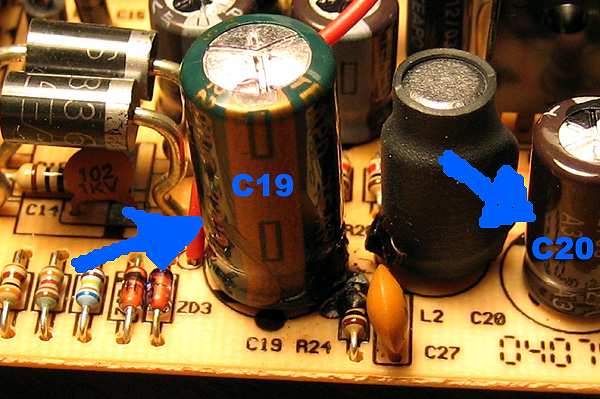 ---
Step 7: Remove the Capacitors C19,C20 and C15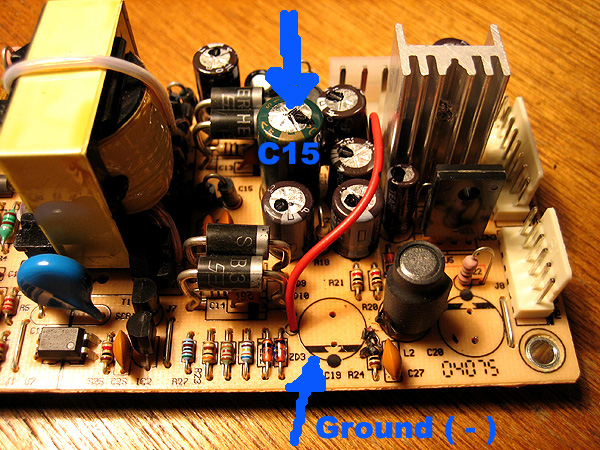 ---
Step 8: Replace the capacitors as followes (please observe polarity of capacitors +/-):
C15 1000 uF 16V 105C (Type: WGR Radial, Low impedance)
C19 2200 uF 16V 105C (Type: WGR Radial, Low impedance)
C20 1000 uF 16V 105C (Type: WGR Radial, Low impedance)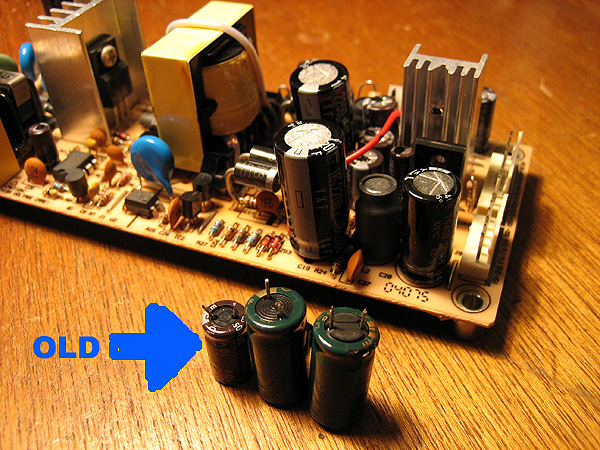 ---
Step 9: Reassemble the unit.
Final Note: it may be a good idea to replace other capacitors if they show sign of leakage. Please also note that a capacitor may be out of order even if it show not sign of leakage.